In my CashBack Research review we will go over their website that is designed to make money off it's users that will do all the surveys and offers that their company is partnered with. Out of the CashBack Research Reviews out there I am glad you have chosen mine. Let us continue.
The way you get paid is based upon what they make off the surveys and offers. If they get paid $20 per person they are going to pay you anywhere from $5-18 depending on what they think is fair or how much profit they'd rather keep. Generally, these types of websites will pay you more so their members will do more surveys and therefore stay longer and add to the productivity. If they only paid you half of what they got they'd have less people doing the surveys and offers.
When you sign up for these types of websites, you generally have a cash payout threshold which basically makes you do some tasks for the website to get your account setup to make sure you will be getting paid for the correct surveys they need you to do. Think of them as an insurance company making sure you are getting the right type of coverage. If you rarely drive, they'd prefer to give you less coverage.
Name: Cashback Research
Website: http://www.cashbackresearch.com/
Type Of Website: Survey for Cash
Upsells: None
Rating: 64/100
 


What is CashBack Research all about?
Cashback research is a website designed to make you do surveys and offers for cash. If done correctly you will earn some money to cash out via Paypal or checks. You will need to answer all surveys honestly You will be doing surveys and/or offers in order to gain enough cash to make a small side cash off of it. These websites are no replacement for a job, unless you stack a few of them together.
 Cashback Research Short Review:
Basically, you will be merely doing surveys and offers for cash. You will have checklists and daily to-dos in order to receive any type of income off Cash Research surveys. They have a system that will check for completion of any offer and survey you finish. Most of the surveys have a geographical preference and can only be completed by certain users. Certain countries will make little to nothing as the USA is one of the highest sought after geographical area.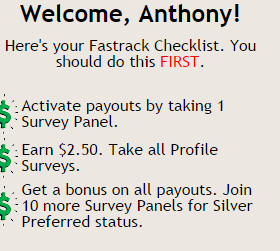 What tools does Cashback Research offer me?
They offer you the ability to join other panels if you cannot find any surveys left on their website. This ensures you to gain a cash flow other than just through them. They, of course, receive a commission from these companies as per their referral programs. I've seen all these websites before through my time searching for money making methods online.

The metals they give out. If you do 10 surveys after you first sign up, you will get more cash per survey or offer. This means you can gain a few pennies more for the same amount of time you've spent on the same surveys.
They also show you where your earnings are coming from and how much you've earned in a neat little hidden panel(It's hidden at the bottom of the page)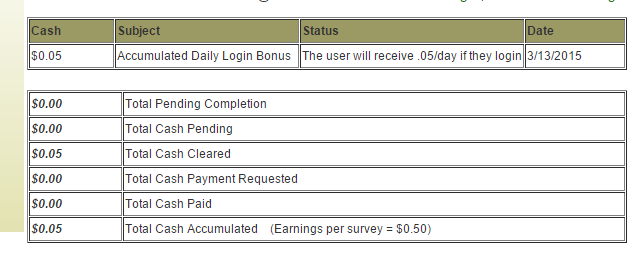 How great is Cashback research's Support?
CashBack Research's support is fairly decent as they only have a submit ticket option and frequently asked questions portion with a huge database of questions that have been asked a ton of times(with answers).

They offer a phone number on their front page which is not found after you have logged in. So, I suggest saving this number if you choose to join their program.

Earning Potential of Cashback Research
The earning potential of Cashback research is slim if you are in non-USA geographical location. Then again, the value of the US dollar is higher than most countries. One thing you need to look out for is the fact they offer you to sign up for a list of other survey panels. They then give you $10 just to sign up for those panels, I'd suggest JUST signing up for those other panels to gain extra cash. You may also just stay purely with their surveys after finishing that panel list.

Earning potential with JUST their website: $5/hour
Earning Potential after tasks and lists: $12/Hour
Once again, this website seems more of a gateway website to the bigger survey panels and websites that are currently out there. You'd be wise to sign up for every panel as you only have so many surveys per day you can complete per panel website you join. IF done correctly you can earn a full-time living pay. I've seen people actually earn a living with these types of companies, but they can sit down and work for hours on end completing every daily survey over and over on each panel they have joined, which could be around 50 panels.
Think of each panel being another part-time job as your own personal website being a full-time job. You'd prefer to only work one job correct?
Click here to find my review on real online success!
This type of website personally isn't for me, but that's because I'd prefer a full-time job at home that I have to post and look at daily, once again the surveys could be for you though.
Pros and Cons of CashBack research
Pros:
Unlimited earning potential if done correctly
3-ways of supports
Earn off coupons
In-depth frequently asked questions
Cons:
It's a gateway panel
Hidden ways to find payment options
Call Center support only shown on front page.
Small task daily task list.
Unknown options for new ways to earn
My Final Verdict of CashBack Research Survey Reward Website
In all my honesty, I've never liked these type of websites, due to me just not wanting to do different types of work every few minutes. If this was a single survey that repeated itself I'd prefer it, but that is not an option with a survey panel website. These companies have put a nail in the ground on how they operate and do actually pay out for the most of them. CashBack Research offers a higher task list bonus than most websites, but due to them being a gateway website without as many panels as the bigger names such as Inbox dollars, they need to refer you to them. They also have a higher than average payout threshold. They offer you bonus' that give you around $20 for just simple tasks, but their cashout threshold is $30, you would be waiting a while to get to that cashback threshold if you did not do the correct surveys afterwords.
Final final verdict: Safe to use, not a scam, but be wary of hidden ways to hurt your cashing out goal.
If you are interested in making some real money the secret to my success for all things involving internet marketing, website development and online business can be found in my #1 review here or strait to their site through the image below. Just remember when you are well long your road to success that you do me a favor and pay it forward as well. Thank you and have a great day!
Anthony
Founder of Online Business Pioneer
onlinebusinesspioneer.com