Today I will show you the top 7 recommended ways to make money online. In this countdown, we will go into detail on each website and how to earn from each website effectively. If you want further information and guides on each website, please feel free to leave a comment stating you want to learn more about that product. We already have a guide on the number 1 recommended way to make money online. You can visit that at any time by clicking the below text.
The way I ranked these methods of making money online are based on my knowledge of each one. These are meant to elaborate and teach each way in a simplified manner. I wont go into full detail on each one in this article as that would make this guide overwhelming. This countdown is calculated for the following:
Ease of Method- How easy is this method for the general user?
Earning Potential– How much can I expect to earn?
Long-term Usage- Is this compatible for later on? Will it be able to make me income yearly or in the next 10 years?
Recurring Income- Is this method able to generate recurring income? Will I be able to do simple tasks every so often to upkeep and keep earning from my previous work?
Price To Join- Is it free to start up? Can you actually join without investing a ton of money off the bat.
The Top 7 Recommended Ways to Make Money ONLINE Countdown!
Recommended ways to make money online, Number 7: The MLM Method
The Multi-level Marketing method just means you will need to find a website that allows you to sign up either under someone or sign up and refer people under you as your own personal downstream. The reason this is last on my list is due to how many of these websites are out there that claim you can make real money online and become a millionaire. These websites are usually pure MLM schemes and aren't worth your time or money. They are never free and always will try to upsell you.
There are a few good ones, that is the only reason it's even on this list as a recommended method to make money online. You will want to stray away from most of these websites or check if someone has already reviewed it or if I have already reviewed the website. This will ensure you are kept safe and secure and know what you will be doing before you do it.
The easiest ways to get started with this recommended way to make money online is to make sure you have a group of friends that are willing to go in this with you, so you can all learn off of each other. If Not, I don't suggest you try this if you have no experience with this type of marketing, period.
Recommended ways to make money online, Number 6: The Click Or Task for Cash Method
There is plenty of PTC(Pay to Click) and survey for cash websites out there and you will have a hard time finding the legit ones once again. The only reason that this one has made it to number 6 is due to the mere fact of people using this as a steady income. You will be able to click ads and get a few pennies per your click, you can also build a downstream with most of these and refer your friends and website viewers to these.
When using these types of websites make sure you research their background and how long they have been up. Generally, there are few that have been up for years. You want to make sure that their cashout threshold is fairly low compared to their pay per click or pay per survey. You do NOT want to join a website with a cashout threshold of $50 if you can only get $0.20 a day, they will be profiting and you will end up quitting at $30, then they just earn from your hard work without having to pay you a dime.
When it comes to most PTC websites you REALLY want to look at a few things. You want to make sure that they have paid out at least 10x the amount of members they have. So if they have 1,000 members, you want to know they've paid out $10,000 in total since they have been up. If they have 10 members and have paid out $100 then they are STILL a great website to be a part of.
You will be looking at recommended ways to earn money from them. You want to make sure there is PLENTY of ways you will be making money. You won't earn much from just clicking on ads. IF they happen to be both types of websites mentioned in this portion you hit the jackpot.
Recommended ways to make money online, Number 5: The Amazon Method
You can always sell amazon products through their affiliate program. This can make you able to open up a storefront that engages viewers and give a category specific to a certain viewer. You can do one that is all about goats or just about electronics. This will give you the ability to sell products and earn commission on each product sold when they visit your website.
With amazon, you start at 4% commission per product. If your average sale is $100 you will only get $4 per sale. If you sell $10,000 worth of products in a month you will only receive $400 a month. This is very nice addition, but on a larger scale you won't really want this as your main stream of income.
NOTE: You can progress through the amazon system and start earning 6% which isn't hard at all.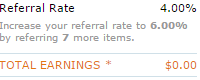 That'd be an extra $200/month if selling on that scale mentioned above.
When you work for amazon please make sure you are selling the products in a creative way. You can either sell them through product reviews or through a personal storefront on an e-commerce website you currently or will own.
Recommended ways to make money online, Number 4: The E-book method
Now this one does have a ton of controversy, but after this explanation you will see why I rate this number 4 on the recommended ways to make money online.
You will realize with the E-book method there are many ways to earn through them. You can either refer people to affiliate links and affiliate products such as amazon products or you can create a cookbook and sell products from affiliate networking and get more money than amazon would pay you.
This method can go the other direction as well. You can SELL your own e-book online from $0.50-$100. If you sell enough it could end up being a large profit and with 2 billion internet users in this world there are definitely enough customers looking for whatever you are wanting to sell.
If you effectively make this your primary method I'd recommend putting it on E-book website or make it available for download after purchase. You can always make your e-book available online with a subscription, which is will be my next top rated method to make money online.
This method is only viable to those that are able to make valuable content that will engage their visitors with useful information. If not, I do suggest just writing articles on your own personal website.
Recommended ways to make money online, Number 3: The Email Marketing Method
Email marketing ends up equipping you to put so many other marketing methods into one single email. This is why email marketing made it to the top for our top 7 countdown. When you get people to subscribe to your newsletter they are giving YOU permission to email them offers down the road. You are basically sending them recommendations and tips to make their lives easier or more pleasurable.
When you send a mass email to your subscriber list you are already giving yourself a chance to make a sale. You can always purchase leads through other companies which I never recommend doing unless you have prior knowledge of the leads being perfect for the niche or product you are trying to market.
This is also a way you can get people just logging on to your website. You can send them targeted emails stating "HEY YOU, I WANT TO TEACH YOU HOW TO MAKE MONEY FREEEEEE". This will ensure they are getting targeted emails directly to them. You may also categorize them into the products they like, by seeing what they open and if they actually view the external link.
Recommended ways to make money online, Number 2: The Advertisement Method
This is the method that can potentially make every website thousands a month. This is the method where you can make your website completely free and easy to use. This method is only recommended as the #2 method, just due to the fact that it's earning potential is the HIGHEST out of all methods previous. This is the method everyone should always be using if they ever have a business or blog. They should have advertisements shown everywhere or give your user a subscription to hide the ads.
There are thousands of places that pay you to advertise on your website, they generally pay per click or per time spent up. You can also personally charge companies for your spots on your website per day or per click. The most famous version of this I can think of is Google Adsense. I am sure you know where to search to find out more about it.
Recommended ways to make money online, Number 1: Creating YOUR OWN BUSINESS
Alright guys I know this may seem the most or least obvious one here, but building your own business from scratch has the most earning potential and the most recurring income from it. For this example we will be using Wealthy Affiliate, my number #1 rated website. This program will teach you literally everything you will ever need to know. It is completely free to try and will never let you down.
You will also be able to put nearly every other method I previously listed into action under one or multiple websites you own. With this type of earning potential, it'd be dumb for me NOT to list this as the #1 recommended way to make money online. With this method to make money online, you will be able to become an affiliate with thousands of websites and have even more ways to earn.
When you want to exceed the expectations of yourself, you will need to work as hard as you possibly can. When you want to exceed even those expectations you ask for help. You can gain the help you NEED to start your own business by using Wealthy Affiliate, Remember it is FREE to try out not even a credit card needed.
The thing you have to remember when it comes to building your own business is that is hard WORK. You will not be spoon-fed and helped without you learning from your own mistakes. This, however, is the closest I've seen to being spoon fed business strategies. You will find a community of people putting their minds together and their mistakes that they learned from all into one pot to benefit the community.
The Things you will need when using this method to build your own business:
Time
Hard work
Determination
Knowledge
Training
Making Mistakes(yes you need to do this to learn)
I know you see people making tons of money off the websites and it looks like they haven't done too much work or have just invested a lump sum of money into it, but truth is if you follow the Wealthy Affiliate program everything they offer is 100% Free to try.
---
If you have a moment I would love if you could drop a comment below and let me know what you thought of this post or the website itself here or if you just want to say hello that is great too! Tweet, Like, Share and +1 helps greatly as well.
Just remember when you are well long your road to success that you do me a favor and pay it forward as well. Thank you and have a great day!
Anthony
Founder of Online Business Pioneer
onlinebusinesspioneer.com
email. anthony@onlinebusinesspioneer.com
---
Bonus method*** Before we warm my "Top 7 ways to make money online" we have one more. I couldn't find a spot on the list for this one but it is a notable mention.
The Fiverr Method
The best way to get your inexpensive service out there is through a place like Fiverr.
This method is not purely online services and includes tons of different ways to earn. You can either give people traffic, write services, graphic design or any other thing you can possibly imagine people want. You could do commercials with puppets or narrate an audio book for someone.
When making fiverr gigs I recommend you post a video for your service. You also want to make sure you can prove that you have finished said service. You can also do products you can ship which is great for those handy individuals that know how to make crafts