Hello everyone today we will be reviewing the Clickbank University Affiliate Program. So… Exactly what is Clickbank University? A little history with Clickbank is that they are an affiliate program based website. You can sell their partner products with links given. This is kind of like Google Adsense, yet it is based on sales you get. You can generate a monthly reoccurring cash flow if done right. Their university is basically a training program much like an actual college course. This is a college for the internet marketers and affiliates.
You will see with this review that they have tons of benefits and some downsides. Let us teach you what you need to know about this company and program.
Name: ClickBank University
Website: http://www.clickbank.com/university/go/
Owner(s): Adam and Justin
Price: $47/Month
Rating: 77/100

What does ClickBank University actually do for me?
ClickBank's University is designed to teach you how to become an affiliate advertiser. You basically will be getting knowledge and tools that you probably would have never thought of. Think of it as a college without any of the increasing debt and hard to find jobs. You will be getting trained with online webinars and videos that you will listen to and learn everything about becoming an affiliate through their programs.
ClickBank is one of the websites most people already use to become an affiliate reseller. You will see many websites referring you to another website in order to purchase or pay a subscription for. Most of the time it's through companies like ClickBank. There are tons of affiliate programs out there, but not many that teach you how to sell their partners' products easier.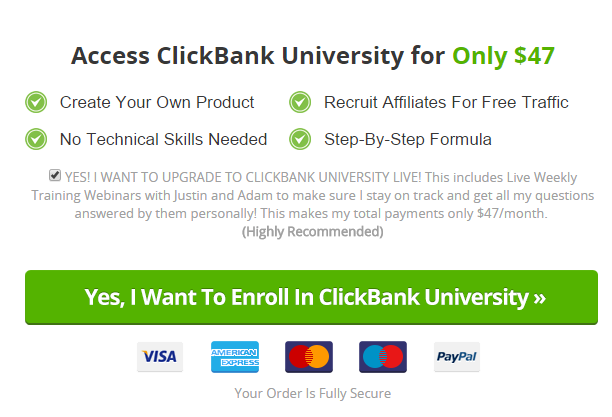 Short version of CBU's Program:
You will basically sign up for their program to be taught on the basics at first. Then become a premium member to gain the best tools they have available. You will take a website and generate traffic then start to sell your "product" to these visitors.
What training does CBU provide
They provide step-by-step video webinars and classes. You are also given 1 on 1 coaching and many members can teach each other some things they don't know. What you will be getting trained mainly on is:
Affiliate marketing
Referral gain
Traffic
SEO optimization
Affiliate reselling
Website design
SEO Article writing
How-to keep steady profits.
How-to sell products.
How to create a product.
Does CBU provide any tools to help me?
Website creation is provided, as well as SEO plugins and content for you to sell and may sell your own product through their marketing system. There is an affiliate program for each product you sell. You can either promote products or put your products through their program.
Also you can take advantage of the live video training and multiple keyword research and SEO tools.
The website builder isn't another CMS WordPress builder and they could have stressed this more inside their introduction video or sales video page. You may utilize a great website builder and that alone should be worth what they ask due to most companies charging an arm and a leg to build the same type of website.
The product selling and marketing portion is fantastic due to the ability to change your incentives for other affiliates to sell your product. You can sell the product for $100, get a $50 profit with your own marketing and SEO capabilities OR you can sell your product for $99 and pay $20 to the affiliate and make a $29 profit quicker.
There are even tools that will help you come up with and create your own product through their website.
Community and Support
Clickbank's community is somewhat lacking in the activity department. You won't see many people engaging with each other. Clickbank University did implement a live chat option that way you can actually talk to each other, but you will rarely receive a correct response from a member. I do think the community has the opportunity, but really does not want to communicate with one another. They are missing out on partners and friends that will help them succeed quicker that's why I prefer Wealthy Affiliate.
Join me at Wealthy Affiliate for free today!
Clickbank University's support is generally just the live chat option. The only downside to them is that I see wrong answers all the time from members that are "trying" to help, but know just as much as you as they are still in training too. You will sometimes get replies from staff on rare occasions, not bad though!
The Pros and Cons of ClickBank University:
Pros:
Amazing Training Videos
Great tools to succeed
Worth the $47
SEO Tools and optimization
Keyword Research tool
Unique Website builder
Huge Affiliate system
Cons:
Lack of Community
Lack of Support
Lack of Information on Introduction video
 My final verdict of CBU:
Clickbank has been in business for a long time for a reason and are a wonderful company. They always strive to help their members in order to get them the highest sales rate possible. The more you put into the program the more you will get out of it. It may cost $47, but if you do it right you will at least make $200 your first month off sales or promoting other members products through their referral program.
This company is completely legitimate and I will back their program with my legit guarantee. If you need money you can try them out and if you don't profit you are most likely not following their training. I don't believe you will get rich in a day, but you will make a profit.
Name: ClickBank University
Website: http://www.clickbank.com/university/go/
Owner(s): Adam and Justin
Price: $47/Month
Rating: 77/100
---
If you want to try a free 7-day premium trial and free membership afterward you will certainly need to try out Wealthy Affiliate, Here is a comparison table:
If you have any questions at all please do leave me a comment. I would appreciate it greatly. Just remember when you are well long your road to success that you do me a favor and pay it forward as well. Thank you and have a great day!
Anthony
Founder of Online Business Pioneer
onlinebusinesspioneer.com
email. anthony@onlinebusinesspioneer.com